You really can save BIG with our
Fabulous February offer in the month of Love!
Right now we are giving away Free Worktops
From our Formica range when you buy 6 or more
Made to measure replacement kitchen doors..
But wait.. there's more
Choose before Feb 24 and we'll also give you free Handles
And if you choose before Feb 16 we'll also give you
Soft close hinges as a free upgrade!
Call us today on 0330 321 0461  for more details
This month really is a great opportunity for you to save BIG with our February 'Month of Love' Offers
Should you choose to upgrade your kitchen doors, we will also give you a new worktop upgrade that covers every millimetre of base cupboard doors that you buy!
But that's really not all, act fast and you can also benefit from free Handles, all from our deluxe range of quality handles.. and it gets even better..
Smooth closing doors denotes an air of quality we think should come as standard so for real early birds we are giving away our smooth-master soft closing hinges too!
But you must move fast as these offer are strictly time limited.
Terms & Conditions of Offer
This offer is made exclusively for new customers making a purchase for 6 or more made to measure replacement Kitchen Doors from The Kitchen Doors and Worktops Company.
This offer cannot be combined with any other offer or discount and must be claimed at the time of placing an order. It is the responsibility of the customer to make clear which offer they are claiming.
Free worktops are equivalent in size to the combined width of all base cabinet doors purchased.
To qualify for handles or hinges you need to place your order before the dates stated above.
The company reserves the right to withdraw this offer at any time. The main offer is available until 29th February 2020.
Download our Replacement Kitchen Doors & Worktops Brochure
Subscribe to the Kitchen Door & Worktop Company newsletter and receive your FREE copy of our brochure packed with the latest styles, tips and ideas to transform your kitchen with a modern makeover. Sent straight to your inbox, or if you'd like a copy sent to your address click or press here.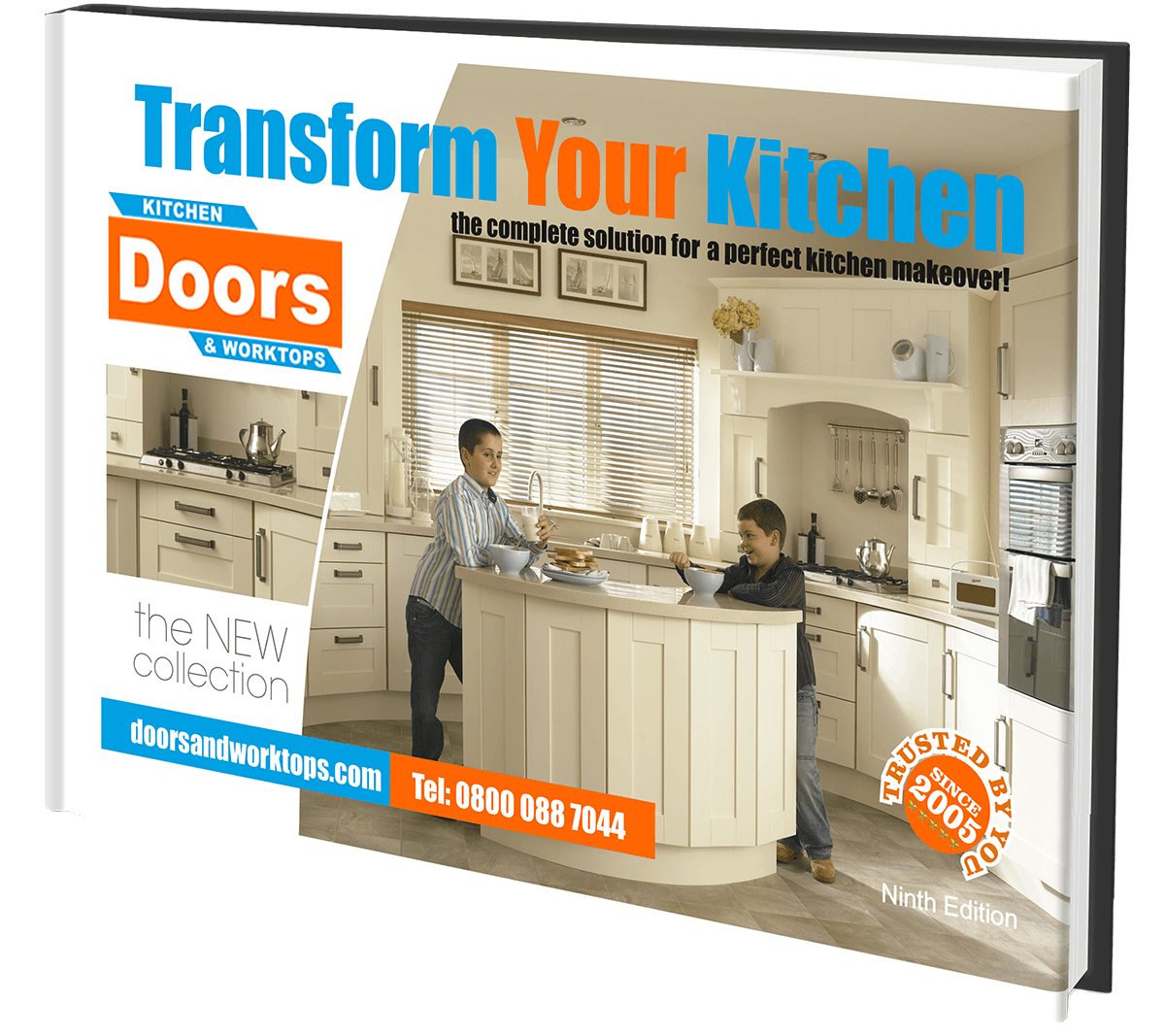 Coventry
Unit 8 Cavans Way
Binley
Coventry
CV3 2SF
Worcester
Unit 19 Hopmarket Centre
Foregate Street
Worcester
WR1 1DL
Stourbridge
Unit 8a Wordsley Green Shopping Centre
Wordsley Green
Stourbridge
West Midlands
DY8 5PD
Click or press on the button to open our contact form and a member of
our team will come back to you shortly.  Or Call us on 0330 321 0461
These are some of our most commonly
asked questions.
How much are the doors?
The simple answer is that it starts from as little as £35 for a made to measure replacement kitchen door and can go up to around £200. See more
Do we need to empty our cabinets?
In short no. Emptying your cupboards is a thankless task that requires the use of boxes, mess and the use of other living space. See more
Do you offer an installation service?
Yes, although you're not obliged to use our installation service. We can be involved in as much of your project as you'd like. See more
Can you take away the rubbish?
The easiest and most cost-effective way is to take it yourself to your local dump, refuse centre, civic amenity site etc. This avoids any disposal costs as it's treated as domestic waste.
If you're unable to do it yourself we can dispose of your waste but there is a cost involved. See more